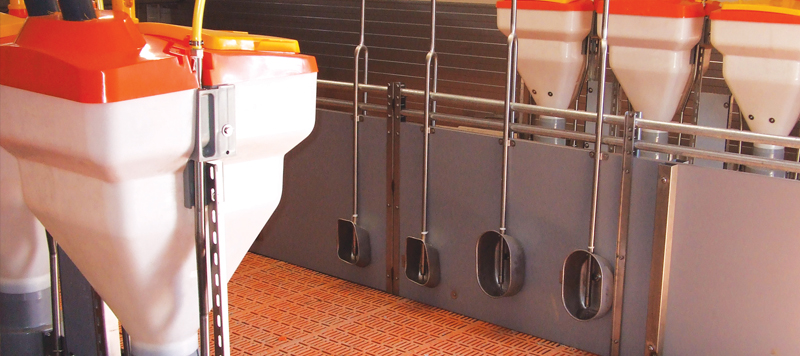 How many pathways can pathogens follow to make their way into your pig farm's population? There are scores of internal and external biosecurity risks that can allow pathogens to be introduced to your farm in multiple ways. Though it is a good practice to vaccine as needed, and to follow through with proper protocols to maximize the benefits of vaccines without over using them, issues still occur. As one report noted, "Whether you can vaccinate or not you should protect your investment by applying appropriate biosecurity measures." The trick, of course, is just where to apply measures. The two most obvious include pig feeders and vehicles, with incoming pigs, stray animals, visitors, water sources, bedding and rodents or pests also causing serious challenges.
Pig feeders are a much more challenging issue. In fact, controls should not be limited to pig feeders alone, but also any of their watering stations or systems and even to their enhancement stations (such as sisal ropes or chewing toys). This is because such systems (particularly water systems) can carry salmonella and leptospira easily through pipes and tanks. Feed itself can carry contaminants, and the feeding systems can become readily infected by food sources, pests and other carries.
Vehicles are a surprising way for pathogens to enter the farm, yet it makes perfect sense. A lorry may be used for picking up animals for slaughter and unknowingly carry contaminants from other farms. Both the vehicle and driver should be held in a contamination zone away from the regular population.
Clearly, it is best to understand how to implement biosecurity to ensure pig feeders, vehicles, and all other possible threats are handled appropriately. The FAO says that your process should always involve:
Segregation – Barriers and limits are the ideal way to prevent infected animals, people or surfaces from making their way readily through a farm.
Cleaning – Equipment, including vehicles and pig feeders among other items, should be thoroughly cleaned prior to being allowed near active populations.
Disinfection – Make the destruction of pathogens a certainty with the use of proper disinfectants and treatments after thoroughly cleaning.
It is not rocket science to reduce the risks of infection in your pig farming operation, but you will have to consider the steps mentioned. You can easily create manageable segregation areas through custom farm buildings and gear, including feeders, like those from IDS Pigs. Contact them today to discuss your biosecurity needs.